Shopping Cart
Your Cart is Empty
There was an error with PayPal
Click here to try again
Thank you for your business!
You should be receiving an order confirmation from Paypal shortly.
Exit Shopping Cart
Le Clos du Beau-Père
Der Clos du Beau-Père oder übersetzt, das Grundstück des Schwiegervaters, ist das ideale Geschenk für den Schwiegervater, zum Beispiel für Weihnachten/Geburtstag oder ein gemeinsames Nachtessen. Es ist ein wundervoller Bordeaux aus dem Pomerol mit eleganter Kraft, samtigen Tanninen und der typischen Pomerolaromatik. Die Weine sind jetzt schon trinkreif, können aber auch sicher noch 15 Jahre gelagert werden. Der Schwiegervater wird begeistert sein.

Vielleicht kaufst du aber den Wein auch für dich und deine/deinen Partner*In und erfreust dich jedes Mal, wenn du aus dem Weinkeller kommst und eine Flasche zum Essen entkorkst.
Die Geschichte zum Clos du Beau-Père.
Sie ist eng verbunden mit der Winzerlegende Jean-Luc Thunevin, den ich während meinem Sabatical 2010 auf Château Faugères kennen lernen durfte. Jean-Luc begann ganz klein zusammen mit seiner Frau mit einer winzigen Parzelle (0.6 Ha) auf der Krete von St. Emilion. Den Wein hat er in seiner Garage in St. Emilion gekeltert. Als er eines Tages nach der Arbeit, es war im Herbst, weinverschmiert durch St. Emilion ging, sah ihn Robert Parker, der mit den Grossen von Château Angélus, Figeac und Cheval Blanc unterwegs war. Er wollte wissen, wer das war und lud ihn mit den anderen zum Nachtessen ein. Er war sehr nervös, weil er kein Englisch konnte. So lernte Robert Parker nicht nur Jean-Luc sondern auch seinen Château Valandraud kennen. Er war hell begeistert von diesem Wein und machte ihn als Garagenwein weltberühmt.
Jean-Luc ist ein Querdenker. Er merkte schon früh, dass man die Trauben ausreifen lassen musste, damit der Wein mehr Zucker und dadurch mehr Alkohol bekam, kräftiger und aromatischer wurde. Das gefiel Robert Parker, der einen amerikanischen Gaumen hatte. Sein Einfluss war gewaltig in Bordeaux. Sein Urteil war Gold wert oder konnte vernichtend sein. Im Bordeaux wurde bis in die Neunzigerjahre bei ca. 12.8% Alkohol schon geerntet. Man liess die Trauben nicht ausreifen. Der Wein hatte dadurch mehr Eleganz aber auch weniger Kraft. Das änderte sich dann langsam und stetig. Heute sind die Alkoholgrade regelmässig über 14%.
Mit geliehenem Geld vergrösserte Jean-Luc Château Valandraud und begründete damit sein heutiges Weinimperium. Darunter gehört auch der Clos du Beau-Père. Er kaufte das Weingut Château Ratouin im Jahre 2006 und nannte es zu Ehren seines Schwiegervaters, der ihn immer unterstützt hatte, Le Clos du Beau-Père. Das Weingut umfasst vier Hektaren Reben mit 90% Merlot und 10% Cabernet Franc.
James Suckling 93 P für 2015
Er schreibt dazu:
Deep, dark (a ton of plum aromas) and rich with a hint of mystery. This is a serious Pomerol with a long, powerful finish and tannins that are so well integrated you could drink it now.
Preis:
0.75l Fr. 55.- jetzt Fr. 47.80
1.5l Fr. 115.- jetzt Fr. 99.50
James Suckling 93 P für 2016
Er schreibt dazu:
Beautiful, attractive, spicy oak layered across ripe plums and mulberries, leading to a very plush and smooth array of ripe, velvety tannins. Great Pomerol. So silky. Try from 2022.
Preis:
0.75l Fr. 55.- jetzt Fr. 47.80
| | |
| --- | --- |
| Posted on December 28, 2019 at 10:31 AM | |
Degustation im Showboom von und mit Microlino
"Zum Abschluss des Jahres machen wir (siehe unten) noch einen Event zusammen. Aperohäppchen, Champagner, erlesene Weine, toscanisches Olivenöl und exquisites, filtriertes Wasser sind zum Degustieren da. Auch stellt eine Künstlerin ihre Bilder aus."
Die Teilnehmer waren:
Wim Ouboter Microlino
Erika Meier Weingut Herdade da Cardeira 
Pierre André Schaerer, toskanisches Olivenöl
Filtriertes Wasser Michael Sieber
Ona Sadkowsky Künstlerin
René Boitel Boitel Weine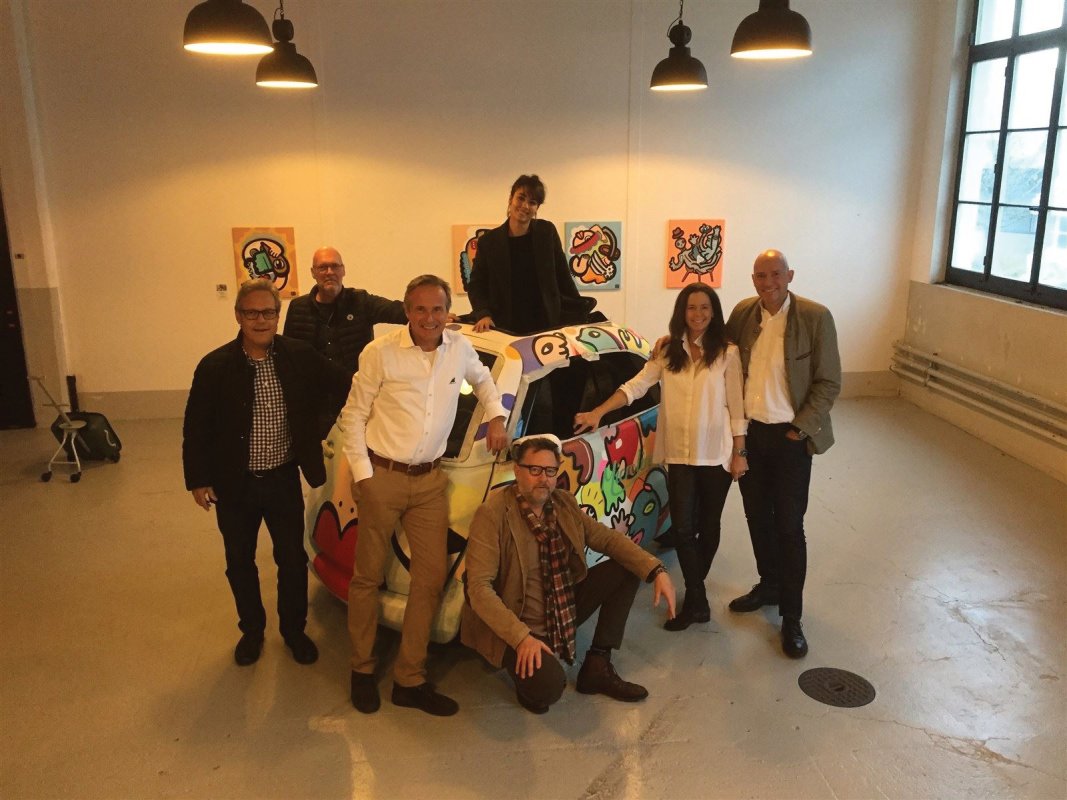 Categories: Degustation mit Microlino
/